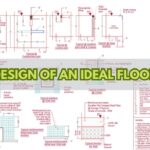 DESIGN OF AN IDEAL FLOOR FOR A WAREHOUSE OR LOGISTICS FACILITY
DESIGN OF AN IDEAL FLOOR FOR A WAREHOUSE OR LOGISTICS FACILITY
Concrete slabs and floors are essential for warehouses and logistics buildings. Many times, the overall attention provided to design and construction detail is less than proportional to the concrete floor's role in the facility's efficient functioning. Large area floors must be built for the lowest cost and give problem-free service year after year.
The floor slab provides a safe and efficient surface for facility operations. In a ground-bearing floor slab, the concrete transfers loads without deforming or cracking to the subgrade below. Pile-supported ground slabs are hanging.
These regulations may also apply to other business floors, such as concrete or high-performance flooring. The following checklist highlights topics to consider when specifying and developing concrete floor slabs for logistics facilities. Different businesses or even the same sector may have different slab construction features.
Warehouse and logistics floor slab requirements
Support static and operating stresses without cracking

Reduce joint exposure

Maintenance isolation joints shouldn't slow vehicle speed.

Provide a robust, abrasion-resistant, dust-free surface Level and flatness tolerances to enable material handling systems

Combine traction with cleanability

Future operations flexibility

Safe and enjoyable workplace
Loading
Static and dynamic loads affect load-bearing concrete slabs. Static loads include block stacking, equipment, and racking. Dynamic loads include MHE, forklifts, pallet stackers, and other vehicles.
Warehouse and logistics floor slab requirements:
Structural Design and Slab Types
To guarantee the concrete floor can hold its specified load, the subgrade must be designed and built correctly. Because concrete floor slabs are strong and forklift wheels and high rack legs are dispersed over vast regions, loading pressures on the subgrade are usually modest. Concrete floors don't need subgrade support. Subgrade support must be somewhat uniform without voids or sudden shifts.
Problem subgrade soils are expansive or compressible, such silts and clays, and do not give uniform support. To avoid issue subgrades, classify subgrade soil properly. The categorization report includes subgrade improvement measures and slab design data.
Sub-grade conditions and floor loadings determine the structural design of on-ground concrete floor slabs. Ground-bearing slab or pile-supported suspended slab are design possibilities. If plastic soils consolidate, a suspended slab placed on piles or between ground beams may be the sole answer.
Both can be post-tensioned or strengthened with steel mesh or fibres. Ground bearing slabs increasingly use polypropylene macro-fiber technology.
Designing Joints
Traffic is heavy at warehouses and logistic centres. Unplanned concrete cracks must be reduced and rectified, and traffic must be supported by expansion and contraction joints. Proper mix design, reinforcing, curing, and joint spacing prevent cracks. When a slab's tensile tension surpasses the concrete's, it cracks. Unplanned cracks in a warehouse or logistic facility floor cause safety hazards and product damage. Cracks must be cleaned and filled with semi-flexible resin.
Isolation joints designed to accommodate structural movement are sealed with flexible sealant. This won't operate in warehouses and logistics facilities with a traffic-pattern isolation joint. A joint system must be defined to support movement and traffic without disrupting the level surface.
Contraction joints accommodate concrete slab shrinkage while it cures. Temperature and humidity fluctuations cause these joints to shift. In regions with vehicle activity, fill sawcut joints. Untreated hard wheels will cause joint spalls. Similar to cracks, joints are filled with semi-flexible resin.
Surfaces
Warehouse floors must resist wear and dusting. Today, aesthetics, light reflectivity, and direction control are significant.
Durability
Abrasion resistance is a surface's capacity to tolerate rubbing, rolling, sliding, cutting, and impact. The abrasion mechanisms will vary substantially in different applications. Truck traffic, foot traffic, and scraping can occur together. Underspecified or understrength concrete or poor construction can cause excessive and early wear.
Dry Shake surface hardeners, chemical hardeners, and high performance coatings give cost-effective ways to achieve a high abrasion resistance. Each improves concrete floor performance and meets application criteria.
Abrasion resistance of the floor depends largely on the composition the concrete and the hardness and toughness of the topping material, including finish coatings. There are many wear and impact tests. Some measure hardness, others wear resistance. EN BS 8204-2:2002, ASTM C779, and ASTM C944 provide abrasion resistance, performance classes, service conditions, and typical applications.
Abrasion or wear resistance is the ability of a surface to endure deterioration induced by rubbing, rolling, sliding, cutting and impact forces. Application-specific abrasion mechanisms vary. Complex combinations of different behaviours can occur, for example, truck traffic, foot traffic and scraping. Underspecified or understrength concrete or poor construction can cause excessive and early wear.
Anti-chemical
Concrete is permeable and chemically weak. Organic and mineral acids erode alkaline cementitious material. Most foods, oils, and chemicals deteriorate concrete over time. Chemically resistant material and coating should be used to protect floors from chemical attack.
Aesthetics
Concrete floors will never look as consistent as coated floors. Concrete floors are made from natural resources, completed by procedures that can't be regulated as precisely as in a factory, and installation conditions vary.
Grey concrete is usual. There are ways to tint and decorate concrete floors. Dry shakes hardeners with pigment colour the floor. Color can be added to the concrete mix or applied using acid stains or water-based dyes. A recent innovation blends fine colours suspended in water with liquid floor hardeners on-site. Yellow, beige, light grey, and white are reflective and brilliant. This may cut lighting expenditures. This can affect sustainability ratings in large warehouses.
Trowel markings and burnishing discolouration are generally caused by concrete setting variances or poor finishing, such as over-troweling. Extra curing compound might darken regions. These wear and dissolve without affecting the floor's surface.