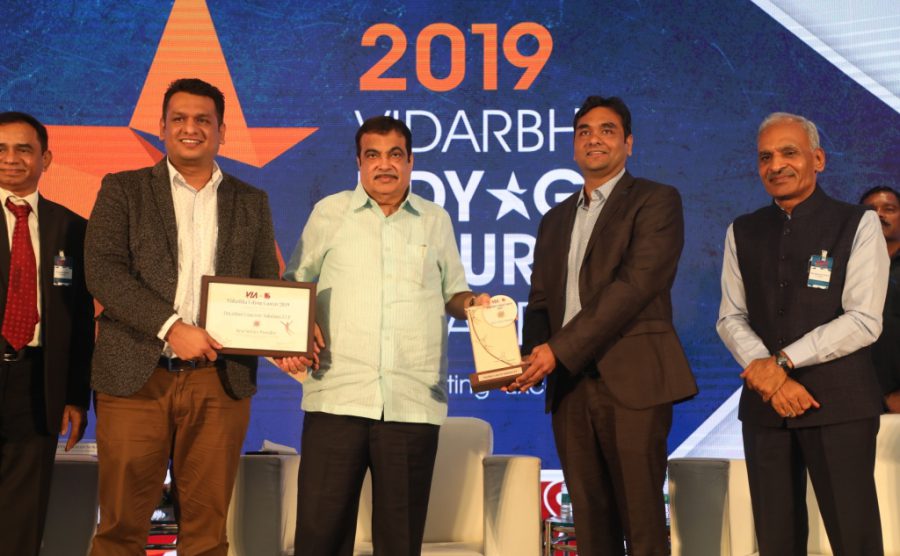 Durafloor MD Mr Akash Singhai & Technical Director Mr Samit Singhai receiving Vidarbha Udyog Gaurav 2019 award from honourable Minister for Road Transport & Highways Mr Nitin Gadkari for "The Best Service Provider" award in the year 2019
Durafloor Concrete Solutions LLP has been awarded "Best Practices – "Industrial Concrete Flooring & Warehousing" at UltraTech Outstanding Concrete Structure Awards 2023 held at The Taj, Nashik on 31st Jan 2023.
Pioneers in high-performance and jointless floors with 15+ years of experience delivering quality floors to our clients with a design built and warranty principal. Durafloor Concrete Solutions LLP is a turnkey solution providing vertical of Kasturi Group, with a vision to provide our clients phenomenal concrete flooring solutions.
Our fleet of equipment includes best-in-class machinery from the USA and Europe to cater every small or big requirement. We are a unique company in India having state of art manufacturing facilities for steel fiber, armor joints, and allied products that ensures world-class products are delivered for your flooring requirements.
Managing Director – Durafloor Concrete Solutions LLP | Ex- Management Consultant | MBA International Business Australia.
Known for his sharp decision-making skills and long-term vision, Mr. Akash has over a decade of experience in business operations and marketing.
His international training has made him a world-class believer in people relationships, his commitment to excellence in strategic planning, and his skill in marketing have consistently resulted in his efforts to maximize team productivity. He values people relationship and committed service and hence stand as a notable leader under concrete industries.
Experienced Technical Director with a demonstrated history of working in the building materials industry. Skilled in Construction, Manufacturing, Concrete, Materials, and Steel. Strong information technology professional with a MS in Industrial Engineering from University of Wisconsin-Madison.
The affection with mechanism does stay with the hard-core geared versions only and it's even more contagious with IT systems. I am more of a system man. That's means I also love to define processes, systems, and planning. I am equally passionate about technology and especially how enriching and valuable it is making our everyday life and has been a charter member of TiE Nagpur chapter, (TiE a Global Non Profit silicon valley outfit started to foster Entrepreneurship supporting start-ups through networking, mentoring and investments all on single paltform).
It is important for entrepreneurs to innovate and think out of the box to grow in the competitive market of today. In a bid to nurture the entrepreneurial ecosystem, I had the opportunity to be the founding secretary of Amravati Management Association, a section 8D Non Profit organisation to proactively reach out to the sources of knowledge worldwide and provide a forum for sharing, learning and enhancing management competencies in the changing global environment. So far, we have done more than 300 programs in last Six years since inception.