Suitable for any application including heavy-duty industrial warehouses and high-traffic areas.
CE Certified joint, chosen for thousands of projects worldwide over more than 15 years.

Setting the joint to the height requires no tools and takes seconds.
HOW IT WORKS
Load Transfer Dowel Systems
With non-dowelled construction joints, load transfer is lost as soon as joints open. With contraction joints, it is generally accepted that load transfer from aggregate interlock starts to be compromised when the crack beneath the joint exceeds 0.035 in. (0.9 mm). The only sure way to achieve load transfer at construction joints is through the use of dowel devices. For contraction joints, effective load transfer may require dowels, or reinforcement extended through joints.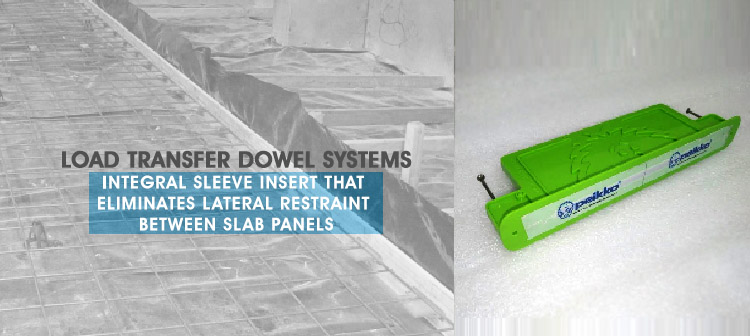 Square Bar Dowel
It can safely be said that all joint edges suffer curl. It's only when curl is significant enough to interfere with material handling vehicle operations that it poses a problem. The degree of curl can be minimized in the mix design (less water, less cement, larger aggregate, etc.). The effects of curl can be minimized by with tighter joint spacing. Shorter panel spacing reduces the shrinkage stresses across the top of the slab. Dowels can also help minimize the adverse effects of curl by providing load-transfer from panel to panel, thus reducing how much the panels can move vertically.
Square Plate Dowel
The "plate" dowel offers load-transfer capabilities comparable to the round and square dowels while eliminating their potential for horizontal restraint. Such restraint can occur when one panel is shrinking at a different rate than the adjacent panel due to an age difference. Contraction joints may also require load-transfer devices, especially when loads are very heavy or joints are widely spaced.
KEY BENEFITS
Ensures proper dowel alignment.

Integral sleeve insert that eliminates lateral restraint between slab panels.

Non-tapered plate profile ensures consistent bearing stresses at joint face and full depth of dowel.

A system with a uniform plate width to ensure minimal bearing stresses at the joint face and through-out the full embedded length of the dowel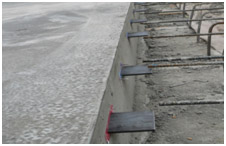 SPECIFICATIONS
ALL THE DETAILS YOU NEED.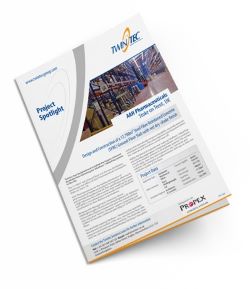 PRODUCT INFORMATION AND DESIGN SPECIFICATIONS
Downloadable product information, technical data sheets, MSDS and architectural specifications.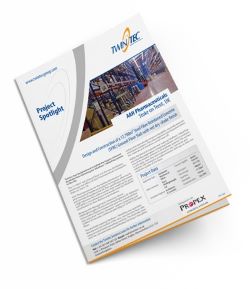 SPECIFICATION TEXT FOR YOUR PROJECT PLANS
Simply copy and paste this specification text
into your plans.
SPECIFICATION TEXT: Armorforce® 4010 Steel Armoured Joint: Installed as per iNFORCE specifications.